产品详细
全自动焊线机iconn plus
发布者:handler 发布日期:2020-08-27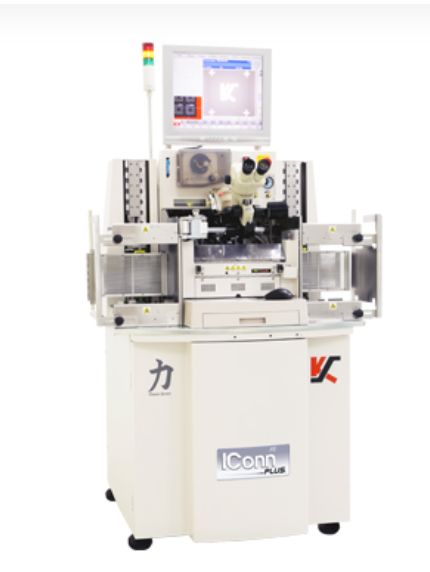 WIRE BONDING CAPABILITY
Ultra Fine Pitch for Au Wire 35 μm inline @ 3 sigma Bonding Area
X Axis: 56 mm Y Axis: 87 mm
Total Bond Placement Accuracy
2.0 μm @ 3 sigma
Pattern Recognition/Optics/Vision Progressive Scan Vision Engine CCD Video Camera
Dual Magnification Optics (2x & 6x)
Optional Programmable Focus for High Magnification
Standard User Processes Compatible with all Legacy Processes Power Series Advanced Loop
Power Series Low Loop
Compatibility
Power Series bond programs are upwardly compatible with the IConn PLUS models - optimization on the newer bonder is recommended for full performance.
Process Programs are NOT backward compatible. Programs
taught on a new bonder model will not run on an older model.
LOOPING CAPABILITY
Maximum Wire Length
7.6 mm with 1.0 mil wire
3.0 mm with 0.6 mil wire
Minimum Loop Height
Ultra-low loop with Power Series Low Loop 40 μm with 0.6 mil wire
Wire Sway
Wire length < 2.54 mm: 25 μm @ 3 sigma
Wire length > 2.54 mm: ± 1 % wire length @ 3 sigma
SET UP & CONVERSION TIMES
Same Leadframe Type:< 4 min
(Heat block insert & clamp changes, program load from disk)
Different Leadframe Type:< 8 min
(Leadframe width & length changes, magazine size change,
heat block insert & clamp change, program load from disk)
KNET PLUS ASSEMBLY EQUIPMENT NETWORK
KNet PLUS - improves efficiency and productivity, by monitoring equipment status in real-time. It collects data and controls process programs locally or from anywhere on a customer's network.
Contact your K&S Sales Representative to learn more.
MATERIAL HANDLING CAPABILITY
Package/Leadframe Dimensions
Length:90 to 300 mm
(L/F shorter than 100 mm will
require optional injector kit)
Width:15 to 95 mm
Thickness:0.10 to 1.1 mm Die Pad Downset: Up to 2.3 mm Magazine Dimensions
Width:20 to 101 mm
Length:127 to 305 mm
Height:50 to 178 mm
Slot Pitch:1.27 to 25 mm
Max. Weight:5.22 kg
MAN-MACHINE INTERFACE
Monitor
17" color LCD display
Durable Control Panel
Function keys and dedicated buttons, and user-friendly mouse.
Industry-Recognized User Interface
Simple pull-down menus. Color-overlays of wire
groups for easy programming and teach.
FACILITY REQUIREMENTS
Minimum Air Pressure
3.52 kg/sq cm (50 psi)
Nominal Air Consumption (flow rate)
185 liters/min @ 4.6 kg/sq cm (6.5 CFM @ 65 psi)
Input Voltage
Standard
200 - 240 VAC; -15 % to + 10%
Single Phase 50/60 Hz (± 3 Hz) Optional
100 - 115 VAC; -15 % to + 10%
Single Phase 50/60 Hz (± 3 Hz)
Power Consumption
1.5 KVA (nominal), 2.6 KVA (max.)
Footprint
Base machine with MHS
889 mm wide x 1009 mm deep (35" x 39.7")
Weight (estimated)
Machine590 kg (1300 lbs) Machine & Crate670 kg (1477 lbs)